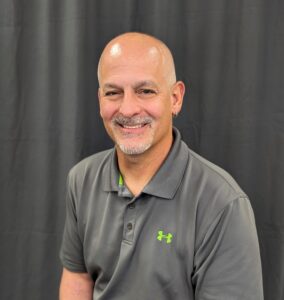 (CEDAR RAPIDS, IOWA, August 30, 2023) – J-TEC Associates, in conjunction with Rayser Holdings, is thrilled to announce the appointment of David Rice as General Manager.
Rice has over 30 years of experience in supporting all aspects of facility operations and management. Most recently, he spent nearly 20 years as Senior Operations Manager at Nordstrom's in Cedar Rapids, IA, after working his way up to a leadership role within their operation since starting with them in 1997.
Now he brings his wealth of manufacturing and production knowledge to the helm at J-TEC.
"I am excited to be a part of a growing company," said Rice. "It is apparent that everyone cares about the people and each other, which really sold me. I am looking forward to learning this unique business."
Rayser Holdings President and CEO Michelle Jensen is excited to bring Rice into the fold.
"We are looking forward to the experience and expertise Dave will bring to J-TEC and our entire organization," said Jensen. "Dave's energy will be highly beneficial as we focus on opportunities to continue to grow J-TEC."
Rice is a 1992 graduate of the University of Northern Iowa. He now resides with his family in Swisher, IA, and has a long history of volunteer work with United Way and a coach for Prairie Youth Baseball.
J-TEC has provided vortex flow meters and sensors for automotive, military, industrial, and mining applications since 1968. J-TEC produces flow meters for internal combustion engine air-intake and crankcase blow-by flow measurement, along with a very specialized flow sensor used on military ground vehicles for the accuracy of large weapon systems. J-TEC Associates is an employee-owned company based in Cedar Rapids, IA, and is a part of the Rayser Holdings portfolio. Visit j-tecassociates.com or rayserholdings.com to learn more.
Questions may be directed to Michelle Jensen, Rayser Holdings CEO, at mjensen@rayserholdings.com.