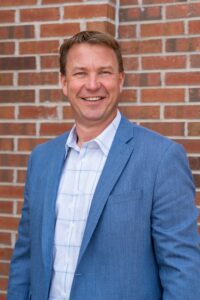 August 8, 2023 (CEDAR RAPIDS, Iowa) – Rayser Holdings is thrilled to announce the appointment of Trevor Monnig to their Board of Directors.
Monnig works as an ESOP Trustee with Acumen Advisory Services LLC. Previously, he served for eight years as Chief Financial Officer for PFSbrands, an employee-owned parent company of food service brands like Champs Chicken. Throughout his more than 20 years of experience, Monnig has built a successful track record of directing financial operations for large and mid-size companies and developed a reputation as "not a traditional number-crunching CFO."
He is also known for his passion for ESOPs, which inspired his recent career move to ESOP trustee to help other companies find success through the employee-ownership model. That passion also drives him as he serves as the current president of The ESOP Association's Heart of America chapter.
"We are thrilled to have Trevor join the Rayser Board of Directors," said Rayser Holdings President and CEO Michelle Jensen. "Trevor's ESOP company experience provides a relatable perspective as Rayser continues its ESOP and Holding Company journey. His overall administrative and operational history will be an invaluable asset to the board, and his focus on culture will be highly beneficial."
A native of central Missouri and a Truman State graduate, Monnig resides in Jefferson City, MO, with his family. He is a GRITT Business Coaching partner and is an external board member for Burgers' Steakhouse and Winter Dent Insurance.
"I'm excited to serve Rayser Holdings and its' employee-owners," said Monnig. "After discussing the ideal BOD candidate for Rayser Holdings, I am confident that my general business experience, acquisition and integration history, and passion for ESOPs will bring value to the team. Thank you for the warm welcome to the Rayser community."
Rayser Holdings was established in 2018 to diversify and enhance employee ownership. Rayser's portfolio comprises CarePro Health Services, KELTEK, Inc., Midwest Memorials, and J-TEC Associates. Rayser looks forward to welcoming future organizations that will enhance the portfolio. To learn more about Rayser Holdings, visit their website at rayserholdings.com
For further information, contact: Michelle Jensen at mjensen@rayserholdings.com.
###